Blog Home
How to Make Friends in a New City


Moving to a new city can be tough for a lot of reasons, not least among them is having to make new friends. However intimidating the idea of finding new friends may be, though, it'll be worth the effort! To help you get started, here are 5 great ways to make some new connections in your new town!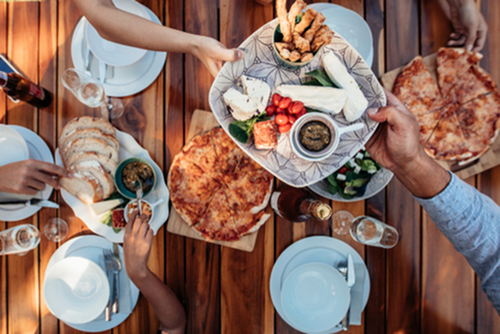 Pick Up a Group Activity
Joining a group activity is a great way to not only meet new people, but to meet new people who share your interests and hobbies! Like to cook? Join a cooking class! Into fitness? Try a local yoga class.
Attend Community Events
In cities of all sizes, organizations often host meetups and events to encourage mingling and welcome newcomers. Not only are these events a great way to make new friends, they're also a great way to discover your new favorite bar, restaurants, art gallery and more!

For those new to Wilmington, make sure to sign up for It's Time Wilmington's newsletter for local news and event. And don't forget the events hosted right here in our community! Make sure you're following River House on Facebook to stay in-the-know about the Resident events we have planned for you!
Connect with Colleagues
Don't overlook the office; it can be a great catalyst for social connections. To spark new friendships in the workplace, try:
Eating your lunch in the break room

Participating in work events

Posting about events or fun ideas in your work's communication channels

Inviting colleagues to join you for lunch, dinner, happy hour, a group activity, or other social events.
Use Your Building's Amenities
Community amenities are a great way to find common interests with your neighbors. Plus, you'll quickly learn who the regulars are. Start by waving or saying hello to the people you recognize. Whenever the chance presents itself, strike up a conversation! If you're not sure what to talk about, make a comment or ask a question about the amenity you're both using.

For those new to River House, start your morning off with a workout in our 24/7 Fitness Center, wind down after your busy day in our Resident lounge, or enjoy some time poolside at our resort-style saltwater swimming pool! Regularly spending time in these communal spots is a great way to meet the people who are also new to our brand-new apartment building!
Throw a Housewarming Party
While you obviously don't know your apartment neighbors yet, it's quite possible that they don't know each other, either. A housewarming party is a great way to not only meet them but to provide opportunities for them to connect with each other as well. Having a theme for your event might help take away some of the anxiety. Try hosting a game night, ice cream social or wine tasting to help break the ice.




Come home to River House Apartments in Wilmington!
Whether you're moving from our of town or from just down the street, make River House your new home! Offering a variety of studio, one and two-bedroom floor plans, you'll be sure to find something to fit your needs at our riverfront apartment community on the Christina riverfront! Sign up today to receive updates.